AC DC output all in one solar power kits
Our home 500W solar generator 220v(230V) or 110V (120V) with reasonable design of light weight, small size, high-power ,current transfer ability from DC and AC in efficient way, and two method of battery-charge. Mainly used as back-up power station for home lighting, traveling,camping, exploration outside without electricity.
Suit for all remote area without electricity.
Battery charge method : Solar panels and AC power .
Foldable solar panel, portable suitcase.
SP500A working guide video:
https://youtu.be/gOTuh5mxaCQ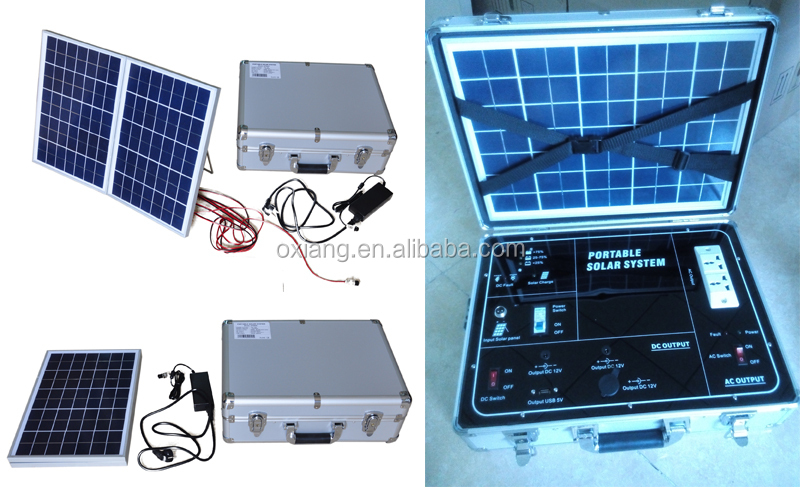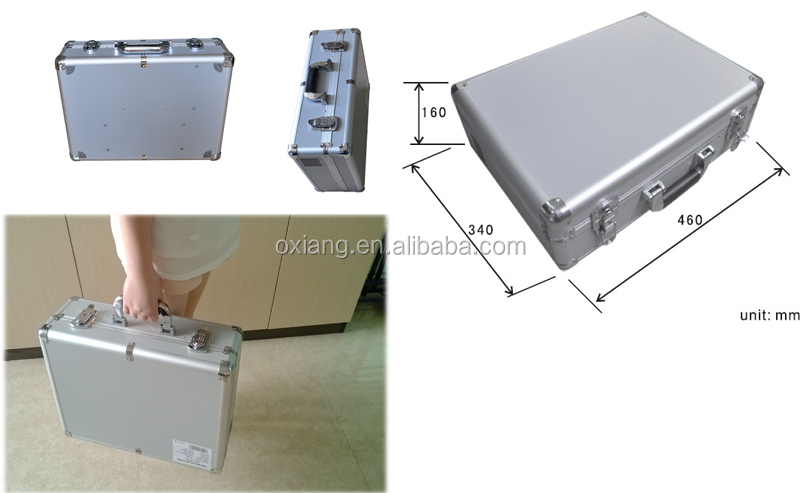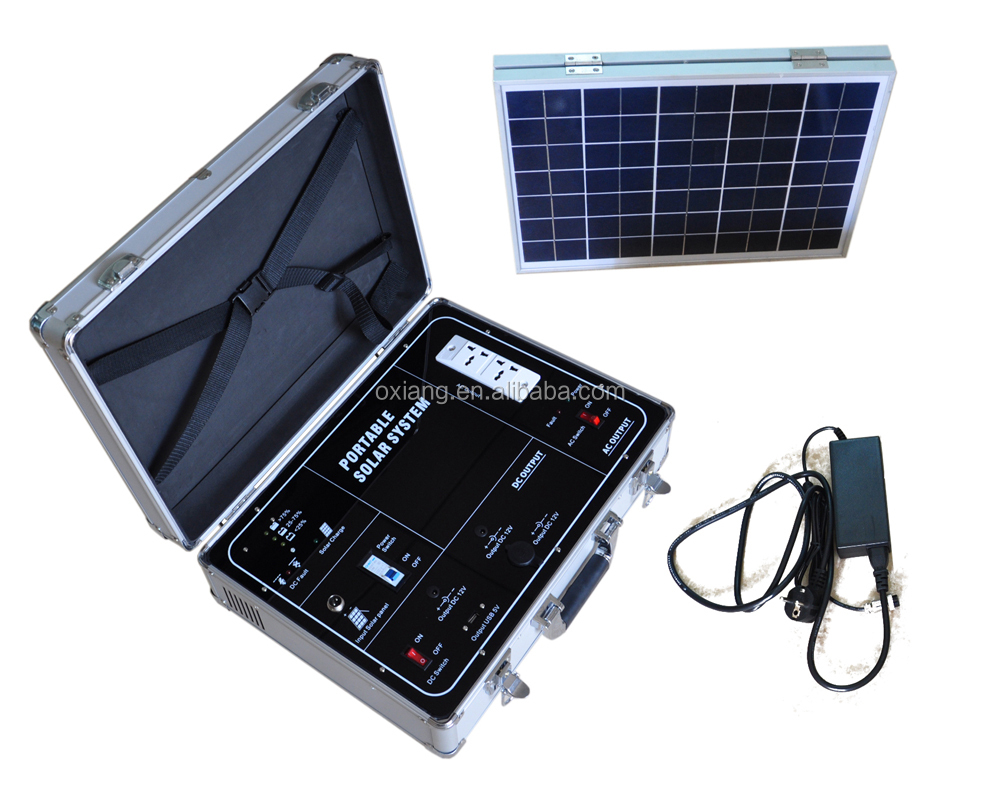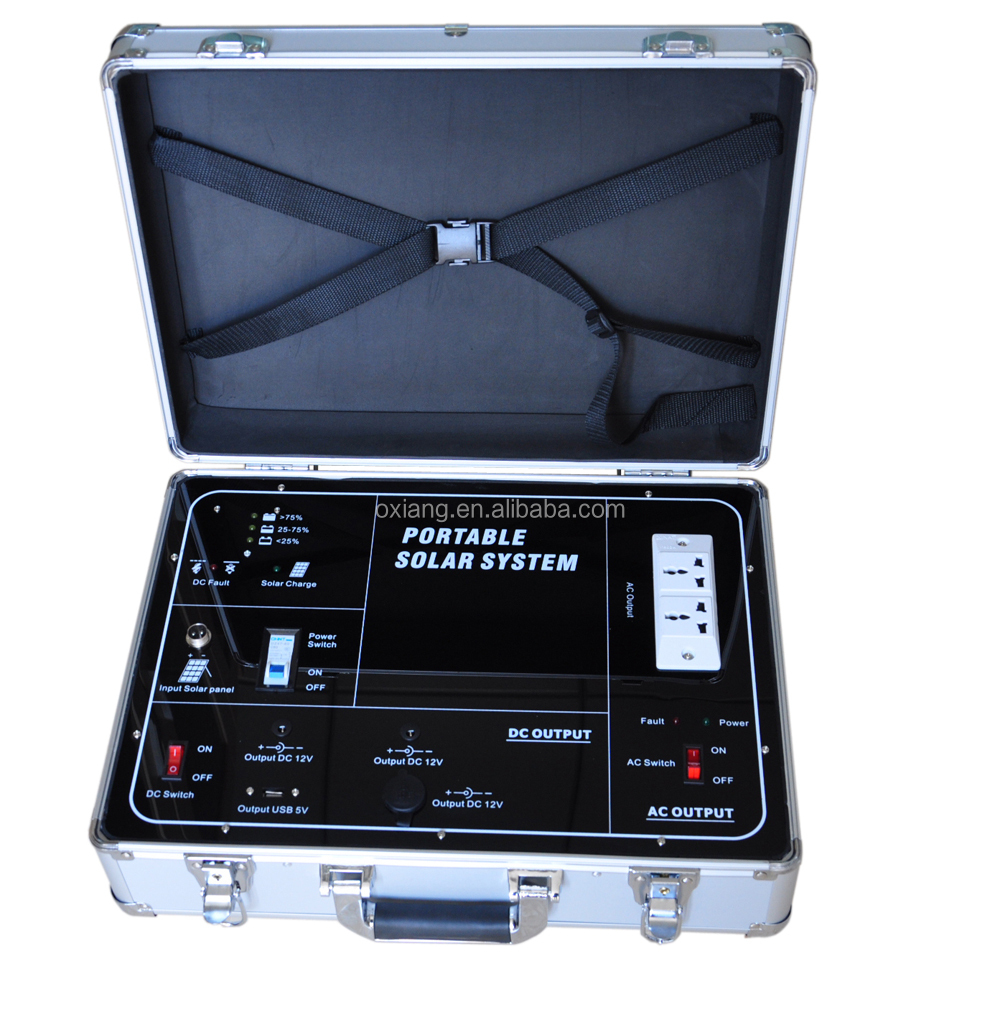 Technical Specifications

working scope:
Item No

Specifications

Product Size
(L*W*H)mm

Carton Size ( L x W x H )mm

GW(KG)

Q'ty Per Carton

SP500A

Solar panels

Pmax

34Wp

675 x 490x 30

710×530×70

4

6.00

Vmp

17.5V

Imp

2.28A

System voltage

12VDC

365×350×175

450×420×240

11.5

12

Modify Sine Wave Inverter

Out Capacity

500W

Output wave

modify sine wave

Output voltage

AC220V / AC110V

Output frequency

50HZ/60HZ

Output current

2.27A(220V) /


4.54A(110V)

Battery

Capacity

12V/20AH

Solar controller

Solar controller

12V/10AH

AC Charger (Constant current output)12V/5A
input :Solar panel/AC adaptor
output: AC 220V/110V/DC 12V/USB port 5V/Car charger 12V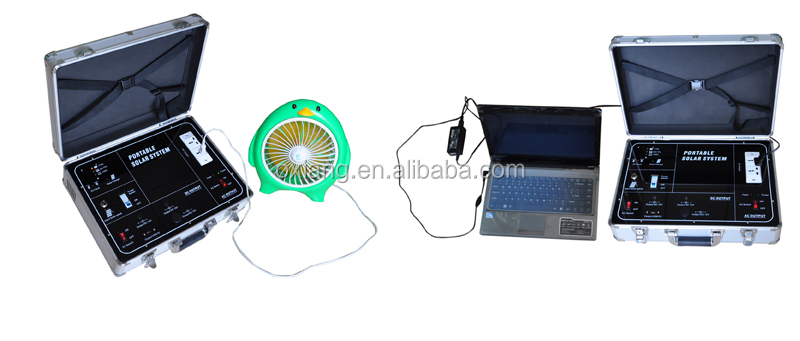 Our mobile power statation mainly use for Resistive load as household linghting, TV, fan, radio and computer.
Not suitable for Capacitive load
as electric motor, refrigerator, air conditioning, Microwave and ovens.

Battery Charge Notices :
1. AC adapter charge ( different type of AC charge available )
While AC power available, please charge mobile power station with AC adapter.
Non-matching adapter is forbidden, Otherwise, the battery will be damaged.
2. Solar Panel charge
Place solar panel outdoors and remove all covering on surface of solar panels, make sure solar panels face sun in south direction to absorb sunlight fully,. then plug the power line of the solar panels into "SOLAR CHARGE" socket.
The adopted solar panels with peak power range : 10W-80W.( Monocrystalline or Polysilicon solar panels), and fully charge time vary with different solar panels.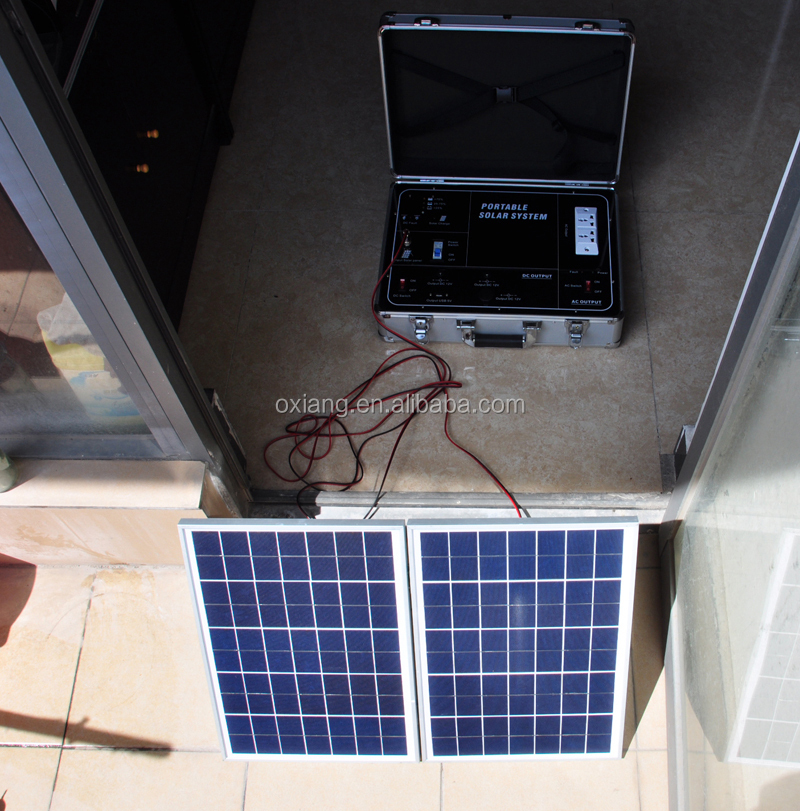 | | | |
| --- | --- | --- |
| Electronic Device | Estimated Power (W) | Estimated usage time( hours) |
| Mobile phone | 4 | 50 |
| Lighting (own) | 5 | 40 |
| Radio,fans depth finders | 9 | 22 |
| Camcorders,VCR's spotlights | 15 | 15 |
| TV | 40 | 5 |
| Computer | 70 | 3 |
1Q: Can this unit power fridge or electric kettle,cooker,microwave or air conditioner etc,for home 500W?
1A :No!!!Suggest to load electric devices' wattage under 200W.Or Less!
This unit is of 500W modify sine wave inverter, make sure you understand this feature.
This one SP500A Modify sine wave inverter can be easily broken than pure sine wave inverter while it passes its limit 500W.
Pure sine wave inverter can load 500W easily and safely,but SP500A modify sine wave inverter 500W is just for protection.
Though Pure sine wave is more powerful,but more expensive,larger,not like this one portable and convenient.We have that series ,we can discuss it for other model instead of this SP500A.
So this one SP500A is not of any significance to load big electric devices like microwave,electric kettle,cooker.because it is just 20AH battery. A small complete system,with 34W solar panel.
What it can load is perfect for some small electric device like LED blubs,LED tube lights,charge smartphone tablet,pad,laptop,electric fan, radio, etc, small electric devices!!!
Can load TV and computer,but can not last long time due to its small 20AH.(Power:20AH*12V=240W.H)
Selling points: Remote area far away from grid power,or area with electricity short, for emergency lighting, Travelling person with emergency need.
2Q:Are you original factory?
2A: Yes,we are.Our factory have produced solar products related for many years. Support OEM and ODM design,our project is widely accepted by global market, just tell us how would you like to apply solar system to your project,we can discuss more.
OUXIANG INTERNATIONAL LIMITED is a leading manufacturer and system integrators of solar energy equipment.
We commit to provide a flow of green and economical energy for our clients. As a high-technology enterprise,we specialize in the new energy research,product development and manufacturing. We have our own research and development team that includes a number of experts,professors,senior engineers and Bachelor in the field of solar energy. With our independent intellectual property we mainly proved the high-efficiency and stable solar products as well as energy solution, which covered with Solar power system, PV grid-connected system,Solar Generator,Solar Controller,Power Inverter,Solar Charger,Solar fan,Digital Charger.
Your satisfaction is our glory. This is the struggle of every member of the ouxiang international limited.